Regular Vegan Butter - Cocoa Butter Base

Mattie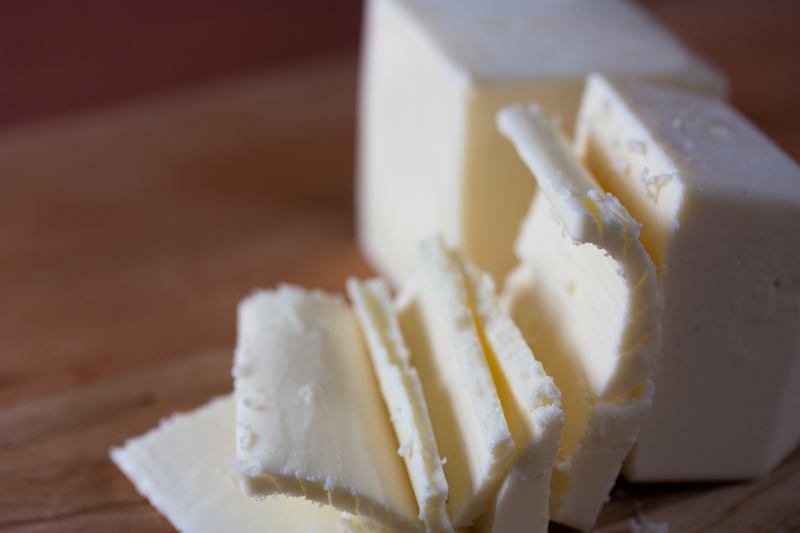 When I originally developed my first
Vegan Butter
recipe I had no idea it would be helpful to so many bakers. I just wanted something that was truly homemade where I had full control of the production process so I could introduce variations to tailor the vegan butter to the application I was working on. Other advantages were that it didn't need to rely on palm oil, which much of the commercial vegan butter industry utilizes, which is linked to rainforest destruction, as well as placing Sumatra orangutans in perilous danger.
The original Vegan Butter recipe uses refined coconut oil for a base, but what happens if there begins to be environmental issues with that type of oil? What if it's difficult to find coconut oil in your area? What if you recently had a dump truck empty 3500 pounds of deodorized cocoa butter in your driveway and you're wondering what to do with it? I don't know which one of these issues led to this, but soon after posting the first Vegan Butter recipe, people started inquiring how to make it using cocoa butter instead of coconut oil.
So, by popular demand, here is the recipe for Regular Vegan Butter - Cocoa Butter Base. Due to the difficulty of melting cocoa butter, the process of making this variation of Vegan Butter is different which is why I decided to post it on its own recipe page. Just like coconut oil, cocoa butter comes in both regular and deodorized, also known as refined versions, where they run it through an activated charcoal filter to remove its chocolatey flavors. This results in a wonderfully versatile solid fat that's extremely useful for a variety of uses. Looking to take advantage of the chocolate flavor of regular, unrefined cocoa butter? Then check out
White Chocolate Vegan Butter
.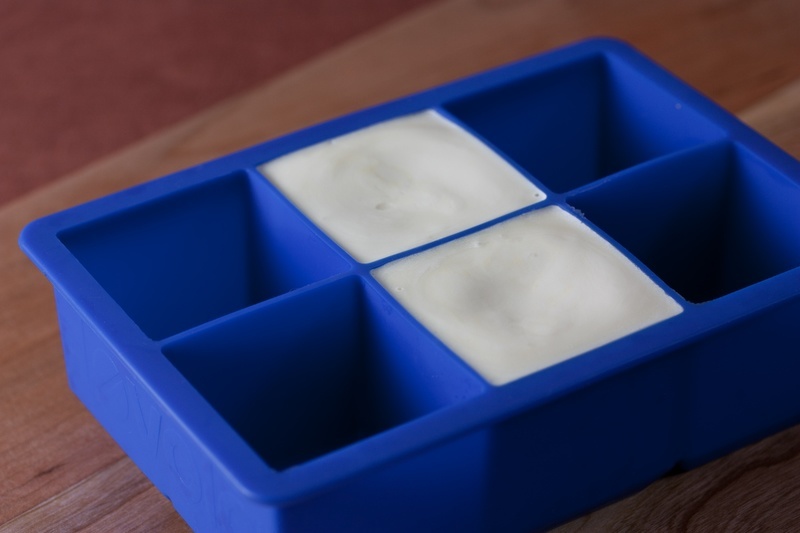 When making these vegan butters it's highly recommended that you use a silicone mold like the
Tovolo King Cube Extra Large Silicone Ice Cube Tray
. This will allow you to make gorgeous butter cubes that can easily be slid out of the molds.
Learn more about the
food science behind Vegan Butter
.
Regular Vegan Butter Recipe - Cocoa Butter Base
¼ cup + 2 teaspoons soy milk
½ teaspoon apple cider vinegar
½ teaspoon coconut vinegar (if you can't find coconut vinegar, substitute with ½ teaspoon apple cider vinegar so the total is 1 teaspoon apple cider vinegar)
¼ + ⅛ teaspoon salt
¼ cup + 3 Tablespoons + 1 teaspoon (85 grams) refined (deodorized) cocoa butter, melted
¼ teaspoon xanthan gum
or
½ + ⅛ teaspoon psyllium husk powder
1) Curdle your soy milk
Place the soy milk, apple cider vinegar, coconut vinegar and salt in a small cup and whisk together with a fork. Let it sit for about 10 minutes so the mixture curdles.
2) Mix your Vegan Butter ingredients
Melt the cocoa butter in a small saucepan over low heat so it's barely melted and as close to room temperature as possible. You can also use a microwave but the melting is considerably faster using the saucepan melting method. Measure it and add it and the canola oil to a food processor. Making smooth vegan butter is dependent on the mixture solidifying as quickly as possible after it's mixed. This is why it's important to make sure your cocoa butter is as close to room temperature as possible before you mix it with the rest of the ingredients.
3) Transfer the Vegan Butter to a mold so it solidifies
Add the soy milk mixture, soy lecithin and xanthan gum to the food processor. Process for 2 minutes, scraping down the sides halfway through the duration. Pour the mixture into a mold and place it in the freezer to solidify. An ice cube mold works well. The vegan butter should be ready to use in about an hour. Store it in an airtight container in the refrigerator for up to 1 month or wrapped in plastic wrap in the freezer for up to 1 year. This recipe makes 1 cup (215 grams), or the equivalent of 2 sticks Regular Vegan Butter - Cocoa Butter Base.
For more vegan butter recipes check out the
Vegan Butter section
.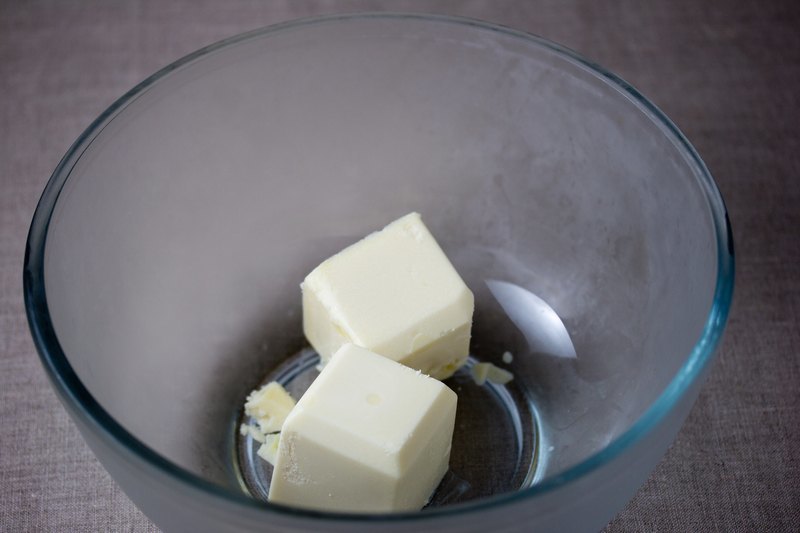 User reviews
This email address is being protected from spambots. You need JavaScript enabled to view it.
Top 1000 Reviewer
View all my reviews (1)
Not emulsiyfying
Hello, I did everything as mentioned but the mixture looks broke to me. The fat and the liquid dont seem to have mixed. I blended it for a long time approx 8 minutes in food processor and again with a hand blender. But It doesnt look well combined. Any tips for those who probably dont have a powerful blender?
Was this review helpful to you?
bridgett
this was difficult and messy compared to recipe below. I think because I had to wait on 15 dollar xanthum gum and sunflower lecithin and it's thick and gooey and sticks to the sides of the blender. to me unnecessary step and mess. and it's half of the other oil which made it taste like the oil instead of buttery. I made the below recipe a week ago. sooooo much easier, less goop to clean up and the nutritional yeast adds buttery flavour.
dang, can't believe I waited 10 days for this stuff in the mail when the other recipe was better to me.
1 cup (240ml) Refined Coconut Oil (Melted)*
2 Tbsp Canola Oil*
1/3 cup (80ml) Unsweetened Soy or Almond Milk
1 tsp Apple Cider Vinegar
1 tsp Nutritional Yeast
Small Pinch Turmeric
1/2 tsp Salt

this recipe was soooooo much easier, no gooey soy lecithin, much better color and more flavour.
Was this review helpful to you?
(Updated: January 04, 2019)
Emulsification!
Thankful for Happy Chappy's note here. I think I've only just realized that everytime I've made something like this it's never been properly emulsified. I just noticed my batch "broke" after the initial mix. I realized my cocoa butter was still a little chunky so I put it back in the Vitamix and on pouring it out...broke! I wonder if treating it more like an aioli would be helpful? Blending the solid fats and slowly adding the liquid fat then the curdled soy & emulsifier? Might give it a try! Thanks for all this help!

**immediately after writing this comment I went to my partially chilled broken butter, put a stick blender in it and emulsification came right back, so there is hope beyond the point of adding the soymilk & emulsifier!
Was this review helpful to you?
Happy Chappy
If your butter is not emulsifying, read this.
Liquid soy lecithin is the one you want to get. All others fail in comparison. On a side note, you only have 1 opportunity to add the emulsifier to the butter and that is when you add the milk mixture in. Otherwise you're gonna trash your batch and will have to start over.

Also Coconut cream works better to curdle than soymilk. When you add the salt to the milk/vinegar mixture do it AFTER the milk curdles. For some reason the milk won't curdle when the salt it is added at the same time as the vinegar.
Was this review helpful to you?
Higher fat content to sub for clarified butter?
Would increasing cocoa butter and decreasing canola oil yield a higher fat content vegan butter similar to french butter or clarified butter?

Jim
Was this review helpful to you?
Answer to Josh
Hi Josh,
Check out Mattie's croissant recipe. He uses a mix of his Regular Vegan Butter and his Vegan Shortening. http://www.veganbaking.net/recipes/pastries/croissants
Was this review helpful to you?
Josh
Which butter of yours is the closest to true butter in its hydration/plasticity and melting freezing temperatures ? I'd assume the cocoa butter over the coconut but I may be wrong. I'm trying to get something as close to true butter for croissants and laminated dough and my coconut butters have been a failure, they get too firm when chilled and will crack. Also which browns the best ??? Questionsss
Was this review helpful to you?
Rachel
Surprisingly good!
I wanted to make some cookies for my niece who is vegan. I had to search awhile to find the soy lecithin and xanthum gum, eventually found both on the internet (of course...) after searching my local health food stores and Whole Foods Market. Once I had all the ingredients, the preparation of the vegan butter was easy and the texture was perfect. The cookies came out great. (I had tried using the Earth Balance shortening first and the cookies did not come out well.)
I had made some extra and so I tried it on steamed broccoli - it was really good! It melted just like butter with a good, rich taste.
One comment about the apple cider vinegar. I found the "bite" from the apple cider vinegar to be a bit strong on the first batch of butter I made. Since then I have cut the apple cider vinegar in half or eliminated it completely and substituted the coconut vinegar instead to make up the volume.

Was this review helpful to you?
The recipe looks great, how about Tara gum, might I use it? I'm from Italy, it's more common here, and it seems more healthy?
Was this review helpful to you?
Kylie
Better way to dissolve lecithin!
To those having issues with the lecithin: I could only find soy lecithin granules locally. After reading about problems dissolving, I crushed the granules with a mortar and pestle and whisked them and the xanthan into the already curdled soy milk mixture. The result was a very smooth butter!
Was this review helpful to you?
PVBAdelina
Top 500 Reviewer
View all my reviews (1)
Vegan Butter
I'm thankful for this site and for this recipe. I'll have to check out the others.
I tried making a vegan butter using the other recipe posted via UTube. It works and tastes ok for savory dishes, but definitely not for baking, especially recipes that rely heavily on butter for flavor, such as lemon curd.
It took me a couple of months to get the ingredients and to finally get my acts together in making this simple butter's recipe and I'm glad I did it. I didn't have problem with dissolving xantham gum. I did follow one reviewer and mixed it in with the curdle soy milk and whisk it well before adding it to the the rest of the ingredients. I used a powerful blender so I think it also helped. I didn't have light olive oil so I used Extra virgin olive oil and I think next time, I'll definitely use light olive oil instead because I prefer not to be able to taste the olive oil in the butter. I don't recommend using canola oil as it isn't a healthy oil, but I think with such a small amount, it might be ok to use making this butter once in a while. I used unrefined coconut oil as this was what I had and I think it was ok. The only thing I would change to this recipe is reducing the amount of salt added.

All in all, this is a really nice recipe! Thanks so much for taking the time to post a nice recipe!!
Was this review helpful to you?
Alisterio
Top 500 Reviewer
View all my reviews (1)
Fantastic! Weighed ingredients?
I love this butter, and the banana as well. And I mean LOVE. I make them all the time.

I was wondering if, with the very precise measurements, if you have not thought of weighing the ingredients. I've taken to weighing everything when I bake in grams and get much more consistent results.

Thanks for the recipes!!!

Mark
Was this review helpful to you?
Isabelle
Great, but not suitable for all cooking...
I created this butter, and it went perfectly well. The recipe makes for a great toasting butter, as well as for a pretty good butter for my Indian butter seitan recipe. However, when used to make my Santa Claus cookies (chocolate chip cookies), the results were not so great.

Oh, the cookies tasted great, and looked great, too. Only, after less than 20 minutes on the cooling rack, they were as hard as rock!

We are a resourceful bunch, so we converted them in biscotti, but I thought you'd like to know.
Was this review helpful to you?
(Updated: December 28, 2013)
jonesian
Top 100 Reviewer
View all my reviews (2)
Can't find refined (deodorized) cocoa butter or oi
Hi - I can't fine refined (deodorized) cocoa butter or even the oil anywhere in my part of England - is there something else I can use, please?

Thanks!
Was this review helpful to you?
utee
xanthan gum replacer?
Dear Mattie,

I'm from Indonesia. I'm new to vegan baking and altough many products here I can easily used to convert regular baking to vegan baking,I want to give a shot on making my own vegan butter. My regular cooking oil is a refined coconut oil n its cheap too,given that coconut practically grows on my backyard.
Still some of your ingredients are hard to find.Soy lechitin for one is difficult to find, no matter the form. I finaly found a local place to buy a good soy lechitin in liquid forms. My biggest problem is finding xanthan gum because I can't find it anywhere from drugstore to baking store and I even try chemical store (yes,that's how desperate I am). This morning I found 1 seller, online, but i have to buy it in a bulk n its pricey. They ask for US$ (yes,its in dollar) 26 per kilo and honestly I don't think I need that much. Could you suggest me what subtitutes I can use to replace xantham gum? How about guar gum or arabic gum, does it safe for eating?

Thanks for your help and I hope to start vegan baking using my own vegan butter instead of a lump of yellow margarine.
Was this review helpful to you?
Mariana
Almond milk instead of soy milk?
This looks great! I was just wondering if I could use almond milk instead of soy milk for any of the vegan butter recipes.

Thanks!
Was this review helpful to you?
Amy
Lecithin issues...
Hi, I got really excited by this recipe, but having tried two batches, I have brown lecithin specks in my butter. I can only find the liquid form in softgel capsules, so I emptied some out until I had a teaspoons worth. Some of the lecithin was smooth liquid, but some was gloopy. On the second batch, I tried heating lightly with the cocoa butter to try to dissolve it, and it came out a bit better but not perfect. Any suggestions? Can't wait to perfect this recipe as I've got loads of ideas for the butter and want to get baking with it!

Thanks
Was this review helpful to you?
please use weights in addition to measures for rec
I like you recipes but I am surprised that you do not use grams for measurements - it is so much more accurate for baking.

Many thanks for your experimenting.
Was this review helpful to you?
Anat
Spreadable butter
Hey Mattie,

I wonder if your suggestion to swap out 2 Tablespoons of the cocoa butter with 2 Tablespoons canola oil will work with coconut oil based butter too. Would you use the same ratio?

Also, I discovered that soy lecithin granules provided a more buttery flavor than the liquid alternative. Problem is, granules won't dissolve properly unless you boil the mixture (not recommended since heat reduces it's emulsifying powers). So i'd like to try lecithin powder instead. How much would you use?
Was this review helpful to you?
Anat
Hey Mattie,

The idea of replacing the coconut oil with cocoa butter is very intriguing!
Could you sense any difference in flavor or mouth feel?

Also, how would you turn vegan butter (either this one, or the original recipe), into a buttery spread? (Earth Balance isn't available in my country, plus your version must be a lot healthier)

A spreadable version of your vegan butter would sure be a real treat!


Was this review helpful to you?
mrsliang
Top 500 Reviewer
View all my reviews (1)
Any subs for lecithin and milks?
Would I be able to substitute with Rice or Coconut milk?

Also any subs for soy and sunflower lecithin? My son is allergic to soy and sunflower seeds.

This is so cool how you were able to create your own butter, it looks like the real deal too.


Was this review helpful to you?
Jody Foote
Just one more question... Have you tried substituting a nut milk for the soy?
Was this review helpful to you?