Vegan No Knead Whole Wheat Sandwich Bread

Mattie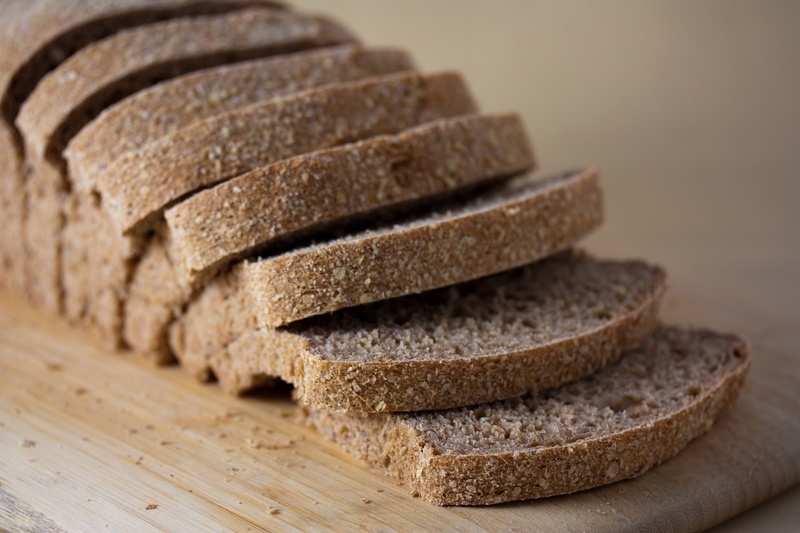 This Vegan No Knead Whole Wheat Sandwich Bread is now my go-to vegan bread recipe because it's simple to make and is a great example of how wet doughs can create wonderfully light and spongy breads. The higher water content allows the
gliadin
and
glutenin
in the flour to align into tight gluten bonds over time so you can forget about all that kneading drama. The result is a fluffy, chewy loaf that's perfect for sandwiches. Feel free to use this bread as a starting point and substitute a ½ cup of the flour for things like wheat germ, wheat bran or oat bran. It's important to note that due to the wetness of this dough it's only suitable for baking in a loaf pan.
Find more
Whole wheat recipes
on Veganbaking.net
Vegan No Knead Whole Wheat Sandwich Bread Recipe
2 cups warm water
2 Tablespoons maple syrup or agave syrup
1 ½ teaspoons active dry yeast
3 ½ cups whole wheat flour
1 ¼ teaspoons salt
1) Mix the wet ingredients and activate the yeast
In a small mixing bowl, whisk together the warm water, maple syrup and yeast. Let it sit for about 10 minutes so the yeast activates.
2) Whisk together the dry ingredients
In a large mixing bowl, whisk together the whole wheat flour and salt.
3) Mix the dough
Add the wet ingredients to the bowl containing the dry ingredients and vigorously mix with a wooden spoon in a circular motion for 1 minute. Cover the bowl with a plastic bag and let it rise in a warm place until doubled in size, about 1 ½ hours.
The benefits of a cold dough fermentation
Alternatively, place the covered bowl in the refrigerator for a
cold rest
for about 12 to 24 hours. This method will produce more flavor because amylase enzymes in the flour will break out more sugars from the starches more effectively at lower temperatures. If you choose to use this method, factor in about a couple additional hours of extra time until the dough doubles in size. Typically after a cold rest, I leave my dough out at room temperature for about 4 hours until it doubles in size, depending on how hot my kitchen is. Since the dough will be cold, the yeast will be in a near dormant state and it will take time for everything to warm back up to room temperature to activate the yeast again. Feel free to let the dough rest in the refrigerator for some of the time and rise outside of the refrigerator the rest of the time; we want our dough to double in size regardless of whether it spends a full 24 hours in the refrigerator or rises at room temperature.
The great thing about the cold rest method is that if you want to make the dough ahead of time, or break up your bread baking into more manageable time frames, this method will allow you to do this
as well as
produce better tasting bread. It's a win-win!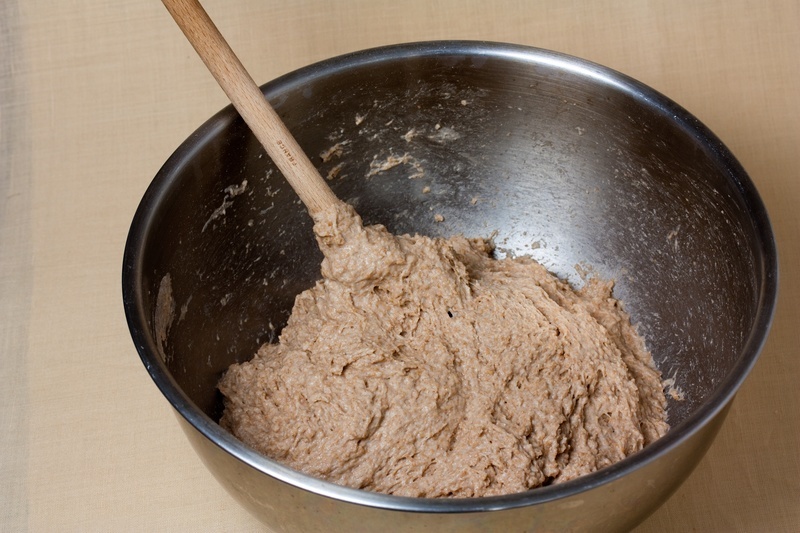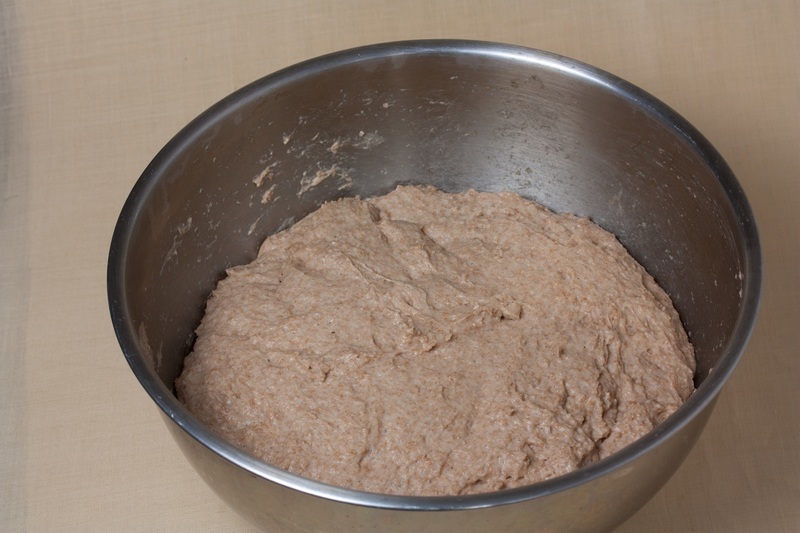 4) Mix the dough again briefly then allow it to rise again
Vigorously mix the dough again with the wooden spoon for 30 seconds and allow it to rise once more, covered, at room temperature until doubled in size, about 1 ½ hours.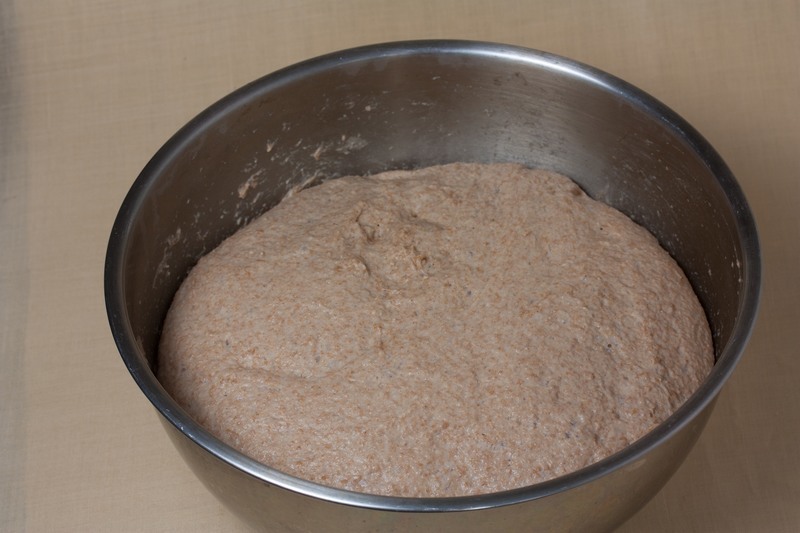 5) Proof your dough
Preheat your oven to 350F (177C). Stir the dough one last time for 30 seconds to degass it. The dough can now be
proofed
by gently forming it into a lightly oiled loaf pan and allowed to sit covered with a plastic bag until it reaches about 80% to 90% of it's intended size, which should be about 40 minutes. The proofing stage is where the dough takes most of it's shape. It's important to leave room under the plastic bag so the dough can rise sufficiently.
6) Bake the vegan bread to perfection
Remove the plastic bag so the dough can rest for about 10 minutes. Due to the high water content in the dough it may begin to spill over the sides of the loaf pan. In this case, take the edges of the dough and stretch it over the loaf to the other side, working your way around the perimeter of the loaf pan as you go. Stretching the dough over itself will also help keep the loaf in its proper shape as it bakes. Lightly dust the top of the loaf with wheat germ, wheat bran or oat bran.
During baking, the dough will rise another 10% to 20% of it's intended size in the process known as
oven spring
. Bake until the internal temperature of the bread registers 180-190F (82-88C) when read by an
instant-read thermometer
. This should be about 45 minutes. Rotate the loaf 180 degrees in the oven halfway through the baking duration for even baking.
7) Allow the bread to cool slightly before removing it from the loaf pan
Remove the bread from the loaf pan after about 30 minutes and allow to cool on a wire rack until it's cooled to room temperature. This bread is best stored covered in a cool dark place or pre-sliced and stored in a plastic freezer bag in the freezer. This recipe makes one loaf of Vegan No Knead Whole Wheat Sandwich Bread.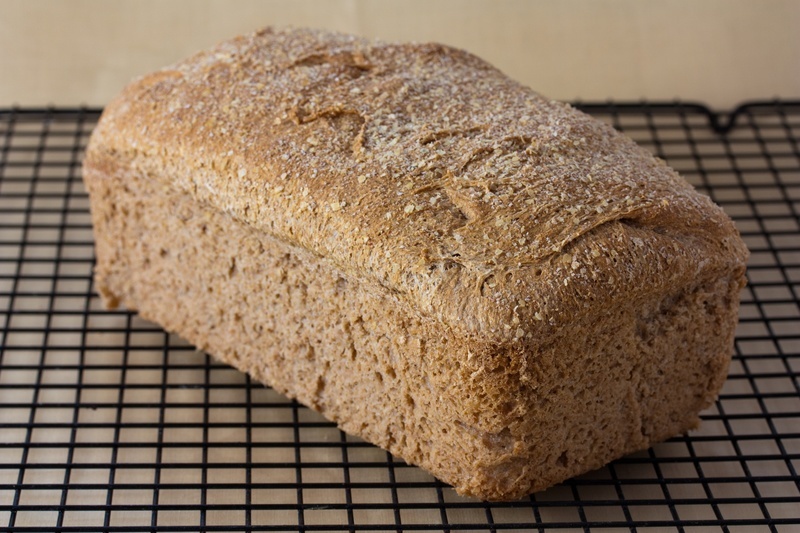 User reviews
Josh
Nice!
Wow this looks Delicious! I definitely need to try out this recipe. :)
Was this review helpful to you?
Cassandra D. Everhart
It's hard to get this kind of recipes these days.
Was this review helpful to you?
Jen
Excellent & Easy
Best whole wheat sandwich bread I've made, vegan or not. It slices very thin workout crumbling or being overly crusty. I added about 1 tbsp gluten to the dry flour.
Was this review helpful to you?
Erin
So tasty
This is my favorite bread recipe, so far, and the only one I've wanted to try several times to get just right. The flavor is SO GOOD, and it's the fluffiest bread I've made. I do have to proof my batches much longer than the recipe states, which is a little odd because I'm in the south and I keep my house pretty warm. I do the cold proof and, after waiting 4-5 hours for it to reach room temp, it takes about 2 hours after stirring to double in size. I still haven't gotten a great proof - I'm in the process of my third try and it's been proofing almost 90 minutes and it still isn't at 80-90% and I'm not sure why. I'm a novice baker so I imagine there's an obvious solution that I just haven't found yet. Either way it comes out delicious, if a little small. Thanks for the recipe. If you have any tips - please share!
Was this review helpful to you?
Daniel.K
Top 1000 Reviewer
View all my reviews (1)
Hmm
So I've made this recipe twice now and the flavor is amazing, but I can't seem to get it to dry out enough. It is a little drier than banana bread. What am I doing wrong? Should I add an extra 1/2 cup of flour?
Was this review helpful to you?
Manuela
This bread was delicious, perfectl taste and texture. Thank you
Was this review helpful to you?
Epic fail
The dough remained soggy wet the entire time and it hardly rose. I did the overnight method. I continued to the end of the entire process and the bread baked like a rock. Lol. What a waste of time over a 24 hour period. I don't know how I am going to get it out of the baking pan. Will probably have to cut out/scoop out the bread and soak the pan overnight. Again what a waste. I don't think I will try this ever ever again.
Was this review helpful to you?
Christine
Christine
Help!! My bread mix has only been in the fridge for one hour and already it's doubled in bulk. What does that mean!? do I leave it in there till tomorrow with the yeast going even higher or possibly collapsing?
Was this review helpful to you?
debbie_hopelessinkitchen
Top 500 Reviewer
View all my reviews (1)
Perfectly Easy
My user name says it all. I'm hopeless in the kitchen. But this recipe is perfect even for my limited abilities.

I can follow a recipe and muddle my way to edible food, and I had small hopes for my first attempt at bread making. The essentials for building a high enough level of hope to try this were in the title, no knead (I knew that I'd over- beat the poor dough, like I did when attempting bollilos) and vegan. Not knowing where the calcium comes from in the wheat breads at the store pushed me to finding out how to make it for myself or live without. This was my last best effort.

And it was simple enough that I decided to try a cold rest and the quicker method to see which came out better. I loved both loaves and ate more than I should have of the quicker loaf before the second loaf was ready. And I loved the second loaf that much more for its fluffier texture and more robust taste. I was already full of the first loaf's vegan goodness, though, so I didn't immediately indulge in it to the same degree.

The following week, I made one loaf. I used the cold rise method again (really worth the wait, even with my limited skills). I let it rest a little longer than I should have before putting it in the oven, but the loaf came out well despite my failings. It wasn't as fluffy, but the texture was still good and the bread rich and flavorful.

And now, the fourth loaf is in the cold rise stage. I'm contemplating making the dark rye bread, starting its cold rise when I wake up if I get up early enough. Or maybe before I go to sleep to make sure that it has a chance to rise and become bread this weekend rather than waiting until I get home on Monday.

However it happens, this bread has been part of my newly developed love of cooking. The great adventure into cooking began because I became a vegan and didn't want to inadvertently continue to abuse animals in the course of eating a meal. This ranks right up there with the almond feta I discovered (it cured my forlorn longing for cheese) and vegan chocolate discoveries. I'll be baking an almond feta and pairing it with this next loaf. I'm picturing nirvana.

Thank you for discovering and openly sharing this amazing recipe. I'll always use it for wheat bread, which will always be a favorite of mine.
Was this review helpful to you?
Carlos
Surprisingly Delicious!
This is the first time I've baked a loaf of bread other than banana bread and I'm really very pleased with the result!

I used wholemeal chapatti atta for the flour and had no argave or maple so used some treacle I found at the back of the cupboard. I also added a handful of mixed seeds and raisins. I didn't seem to get much rise during the fermentation period and actually started thinking I'd gone wrong somewhere - I gave it an extra half hour to be on the safe side. During proofing it also didn't seem to rise that much and after 40 minutes i decided to just start baking and see what happens (my hopes not being too high at this point).

Once in the oven it fairly quickly rose another 50% or so and I baked it for the recommended 45 mins, turning half way as suggested. I don't have a thermometer but tested with a tooth pick and decided to take it out to cool.

I'm not sure where I went wrong with the initial rising issues (maybe not in a warm enough space, or maybe because I was using a quick bake yeast?) but the final result was really great! Very tasty, quite dense/heavy but not too much so and I actually quite like it like that anyway, and also very easy to slice for sandwiches or toast. I'll definitely be coming back to this recipe. Thanks!
Was this review helpful to you?
Shannon
Great recipe
I have made this bread several times now and it is always a huge success when following the recipe as written. I always do the longer, refrigerator method. As the recipe author suggests I have also swapped out 1/2 cup of flour for various other flours including buckwheat flour and oat flour. I also sometimes sprinkle sesame seeds or other seeds on top. The dough is wet enough that they will stick without needing to brush on water or anything.

The finished bread always rises nicely and comes out with a deep flavor, superb porous and chewy texture, and a beautiful and flavorful crust. This is a great recipe.
Was this review helpful to you?
gekramer
Top 500 Reviewer
View all my reviews (1)
this bread rocks
I've made this recipe many times and I love it! I've started adding stuff to it to make it more hearty: a small handful each of raw oats, quinoa, and sunflower seeds is heavenly, and doesn't collapse the bread!
Was this review helpful to you?
mrsplant
Top 500 Reviewer
View all my reviews (1)
AWESOME bread!
My bread came out fantastic, though my pan was big and the slices weren't as tall. Also, the bread stuck in my crappy pan because I don't use oil. I ordered a new pan from Amazon that everyone says is amazing. It better be for $15!!! :-) I can't wait to try this again in the new pan. Check out my results at:
https://www.facebook.com/mrsplantintexas
Thank you again, Mattie!!! YOU ROCK! We still LOVE your pizza dough!
Was this review helpful to you?
Roboat
I am keen on this bread! My question if your still replying is the timing to double our dough after taking out of the fridge.
To get a nice early morning loaf with four hours to get it to room temp is difficult . Have you any tricks allowing the bread to be left out overnight for 12 hours after refrigeration? Can it be slightly frozen first?
Was this review helpful to you?
Paige
This bread is awesome! The first time that I made this bread, it did not rise enough. For the second trial, I increased the yeast by 1/2 teaspoon and it rose beautifully and tasted much better than the first! I can't wait to make different variations of this recipe by adding in herbs & seasonings!
Was this review helpful to you?
First time!
It was first time baking a bread loaf when I made this yesterday, and to be honest, it turned out great!

Though I didn't exactly follow the recipe, (since I included about a teaspoon of cinnamon powder, used 3 1/2 cups whole wheat flour (fine) and about another 1/2 cup (coarse) and about 1/8 cup of whole grain seeds to sprinkle on top, below and some with the dough itself) it did rose properly after the first rising, and also the 2nd, but I left it for about 4 more hours than the given 1 1/2 hours since I had to go somewhere, when I got back it already popped the plastic cover cause of the gas of yeast, I transferred it to a non-stick loaf pan and let it rest for 40 minutes before finally sliding it in to the oven at 350F, waited 22 minutes, rotated it 180 degrees, and baked it for 23 more minutes.

After 45 minutes I removed it and used a cake tester stick to check if the inside is cooked, sadly it wasn't fully cooked on the inside, I tried putting it back for 20 more minutes at 350F degrees but the inside still stayed the same.

Take note that I didn't vigorously mix it when I finally put it in the loaf pan, so I'm not sure if it really was under-baked or it's the lack of the mixing, also I'm unsure if my dough was right since it seemed a little too wet (that's why I added more flour than in the recipe). The final outcome was that the bread still kind of smelled yeast-y inside even after baking. Since it's my first time making a bread loaf I don't know which one is the reason, other than that the bread was awesome! My dad told me that the loaf can still be eaten by slicing it and toasting it, so we did that and it turned out quite well!

Was this review helpful to you?
JulieDB
To Tara
I have trouble with it rising too much and slopping over the pan. I just realized in reviewing the recipe that I was failing to pull the dough over to the other side. So I will try that.

Is your yeast fresh? I am using a Rapid Rise so I have to check it sooner. Haven't tried the fridge recipe only because have a small fridge and there is no room in there.

And unrelated to you... I did find something to cover the dough with. Some Extra Large bowl covers that I found on Ebay. Works for both the bowl and pan but because the dough tends to slop over the pan, some will get into the cover. I think I need to look for a deeper pan.
Was this review helpful to you?
Mandrew
hooray!
First loaf of bread ever, and it turned out great! Delicious!
Was this review helpful to you?
won't rise
Am I the only one who is having a problem with my bread simply not rising? It rises for each 1.5 hour time frame but when I let it proof for the 40 it won't rise and stays exactly that same height the whole baking process! I don't understand it. I have tried it with both the refrigerated and non-refrigerated versions. Any advice??
Was this review helpful to you?
Best Bread Ever!
This bread is wonderful but I was wondering what kind of plastic bag you used. I found some 2 gallon, thin, bread type bags in my cupboard. They just barely worked to cover the bowl the first time but the bag wasn't big enough for the pan. So I used two sheets of plastic wrap but I did oil t he wrap so the rising bread wouldn't stick. This last time I tried a bowl cover which turned out to be not quite large enough. I know that a trash bag would work but is probably not food safe and you can't see under it.
Was this review helpful to you?
sunflower
Top 500 Reviewer
View all my reviews (1)
Vegan bread
I love thi bread. Is perfect! I only have one question, do I have to preheated the oven for 40 minutes while the bread is in the proofing process? Is any other way so I dont have the oven on for so long?
Was this review helpful to you?
Mildred Mayorga
Top 1000 Reviewer
View all my reviews (1)
Calories per slice
Well this recipe looks great and healthy. I was just wondering how many calories are in each slice and about how big are the slices. Just can't wait to try this looks great. Thanks for sharing this recipe.
Was this review helpful to you?
bob
a smart way for baking
Used 1 teaspoon of yeast and was a bit more than what i usually use. The flour cant rise when very wet because its drowned by the weight of water. I first mixed parts of the water and flour for a minute or 2 so the yeast will attach then added flour in batches as well as water. The dough didnt double but i could see it and feel it its like 3times rise sizr like a wet sponge. The thing that i like a lot of this baking is that it allows wholewheat to wet enough and i learnt that flipping the loaf pan 180 degrees upsidedown helps in the bread falling without sticking. Thanks for the great art!
Was this review helpful to you?
Holli
Question about flour
I have been searching and searching for a vegan, no oil bread that is also gluten free......can a GF flour blend be substituted in this recipe? I make my own that contains brown rice flour, tapioca starch, potato starch and xanthan gum.
Was this review helpful to you?
Rachael
Great recipe that even a beginner can handle!
This was my first time making sandwich bread. Prior to this I've only made banana bread. Though it is a recipe that require quite a bit of time at home (though much of the time is hands off time just waiting until it's time to stir again), this is a simple recipe to make. I love that it did not require bread flour, since I already had whole wheat in my pantry and wanted to use as much whole wheat as possible. I've since made this recipe several times. It's great if you're on a budget and want good whole wheat bread. I also love that I know that there are no added preservatives or unnecessary ingredients. I usually make two loaves on the weekend, slice them, and then freeze one loaf to use once the first loaf runs out.
Thanks for sharing this recipe!
Was this review helpful to you?
kayah
zion
can I use honey instead of agave syrup or maple syrup?
Was this review helpful to you?
K
The best!
Turned out beautifully! I've been on a search for an easy, delicious bread and I've finally found it. Thank you!
Was this review helpful to you?
Roby
Hi! I have just made this recipe! I have added some flex, sunflower and sesame seeds. Everything seemed to work perfectly, but once in the oven it didn't raise at all. I was wondering if I was suppose to cook with the fan on. Because I cooked the loaf with fan forced off, is that the problem?
Thank you!
Was this review helpful to you?
MadInGlasvegas
Top 50 Reviewer
View all my reviews (2)
excellent recipe
It is nomtastic as confirmed by guinea pigs (bf, flatmates and folks at work eyeing up my bread with envy). I used 3 different flours chucked in whole load of nigella seeds ( which were bought because of their name and accidentally proved to be delicious) and whatever else I had at hand spice wise. Great. The only bad thing is- whole damn loaf disappeared in less than 24 hrs. Making another one already :) I really like no knead no bother approach, I'm dead busy during the week and this is something easy to throw together and than even if i ll forget about it it will still turn out great.
Was this review helpful to you?
Christine
Mattie, you are a freakin' GENIUS!! Best bread I've ever had in my life, hands down. I used white whole wheat flour (my favorite flour). I have a rather small loaf pan, so it ended up spilling over in the oven (good thing I placed it on a baking sheet). But that's okay...it made for excellent pull-apart pieces of bread lol. Thank you so much for this recipe, I'll make it again and again and again!
Was this review helpful to you?
View all user reviews